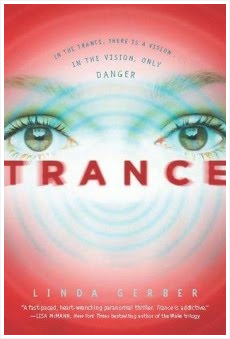 Release Date: October 14th 2010
Links: GoodReads / The Book Depository
NZ Retailers: Paper Plus / Whitcoulls
Snyopsis (from GoodReads)

Ashlyn Greenfield has always known when bad things are going to happen. Each time that familiar tingling at the back of her neck begins, she knows what's to come a trance. She's pulled in, blindsided, an unwilling witness to a horrible upcoming event. But she's never been able to stop it, not even when the vision was of her mother's fatal car accident. When soulful Jake enters Ashlyn's life, she begins having trances about another car accident. And as her trances escalate, one thing becomes clear: it's up to her to save Jake from near-certain death.
My Thoughts
I wasn't originally planning on reviewing this book just because I don't have a whole lot to say about it, but I thought I could just do a quick one basically summarizing my thoughts on it.
The story was reasonably fast-paced and didn't take me too long to read. It begun after the car accident, with the protagonist, Ashlyn trying to get her life back together. The whole story was pretty basic. It didn't pull me in or have me on the edge of my seat but I simply wanted to know what would happen. The story was a little repetitive at times so I began to worry that a lot of things would go unanswered. Fortunately, this wasn't the case (for the most part). Through flash backs we learn a bit more about Ashlyn's situation and the things that happened prior to the car accident. In terms of the answers which create the background to the story, I was satisfied. As for the rest, not so much. Considering we already know what the trance is about from the very first page (it tells us so in the synopsis), I was expecting more revelation than, "Oh! Jake is going to be killed in a car crash! I need to save him!" then the last few chapters is Ashlyn trying to save Jake. I was hoping to at least find out more about Ashlyn's trances such as why she has them and things like that. There was much more to the story that could have been told. With that being said, the author did a good job of telling a story where I already knew what was happening as she managed to keep my interest through out the whole story.
The characters were so-so for me. There weren't really any descriptions on the appearances of the characters which would have made it a bit easier to imagine them, but that didn't bother me a whole lot. The most likable characters in the story were Gina, Ashlyn's co-worker who's personality stands out the most in this book; and Jake, the 'cute' guy who works across from Ashlyn and is the guy of her trances whom the author obviously put the most effort into making likable. Michelle, Ashlyn's best friend was your typical teenage girl who is also very caring and protective of her friend. There was nothing special about Ashlyn apart from the fact that she's telling the story and having the trances. I don't remember much about her personality. The characters aren't exactly characters I will remember for a long time simply because like the story, they were somewhat basic.
This was a fast-paced and easy read. It's a pretty basic story and could have used a little more development overall. I was about to purchase this book but decided to borrow it from the library first which I'm actually glad I did. It's worth a read, worth a borrow. I wouldn't go out and buy it until I've read it first and made an opinion on it. I probably won't remember this story much as time goes on, but it's a quick read and I wouldn't say it is a waste of time.

3 Stars!
I liked it. Not enough to buy, but it's worth the read.